Themes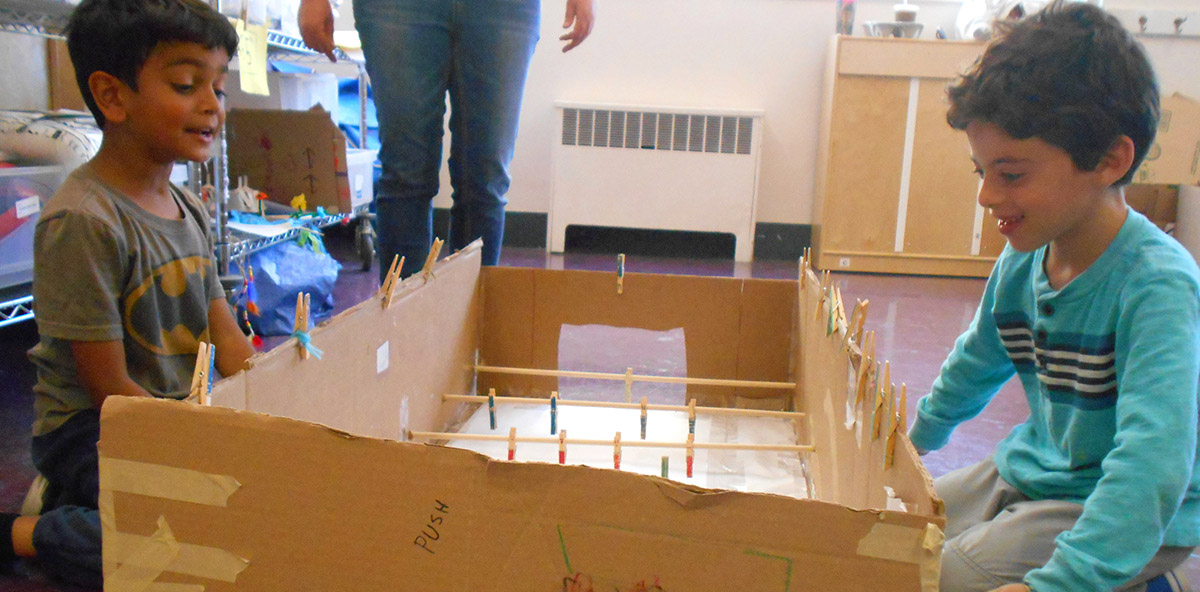 Designed by expert curriculum directors. It's hands-on, using real tools and simple materials to make something extraordinary.
Primo

Pre K – K

Learn More

Exploring Light and Shadow

Have you ever tried to catch your own shadow? Just when you think you are getting close, it escapes! Explore the elements of light and shadow as you work through the full investigation process from predicting, classifying, hypothesizing, experimenting, and articulating your observations.

Develop your own hypotheses about what makes shadows and then utilize light as a material or 'language' to test your theories.
Utilize different multi-sensory light sources such as flashlights, LEDs, light projectors, and even natural light in combination with materials that respond to illumination.
Explore concepts like reflection and refraction as you utilize various objects to displace light.
Offered the weeks of 6/11-6/15 and 7/16-7/20.

Sound and Movement

Ever wanted to create your own school of rock at home but your parents wouldn't let you? Well, now is your chance! We'll use kinesthetic experiences to discover what causes sound and how it relates to movement as you boogie down throughout the week.

Discover the elements of sound and their correlation to movement.
Experiment with rhythm, sequence, and pattern as you strengthen your math and spatial reasoning skills.
Explore tone and pitch as you theorize about how and why sound changes based on its source and distance.
Offered the weeks of 6/18-6/22 and 7/23-7/27.

Myths and Legends

Unleash your imagination as you design unique fantastical creatures based on famous stories and myths using different media including recycled/reused items, natural materials, paper, clay, wire, etc.

Learn the entire design process as you translate an idea into a two-dimensional and then three-dimensional form.
Explore the relationships between size, scale, and proportion.
Learn how different colors, shapes, and textures can be manipulated to create different versions of your original concept.
Offered the weeks of 6/25-6/29 and 7/30-8/3.

Marvels of the Natural World

Explore the awesome wonders Mother Nature has to offer us through the natural systems and creations around us. Develop your own theories about the natural world and articulate them through painting, drawing, collage and assemblage, and sculptural forms using wire and clay.

Hone your skills for observation, investigation, and understanding as you lead scientific expeditions to collect specimens for further study.
Learn to identify the building blocks of organic objects as you sort, classify, and inventory your artifacts.
Develop theories for how these objects were formed in nature and how different environments might impact their characteristics.
Offered the weeks of 7/2-7/6 and 8/6-8/10.

Building and Engineering

Calling all architects and engineers! Design, build and test your structures as you learn to apply different construction principles. Since working with friends is not only fun but also very helpful in the creative process, you will develop construction strategies in collaboration with your peers.

Learn the basic engineering design process as you experiment with balance, gravity, measurement, symmetry, and spatial relationships.
Develop your divergent thinking as you prototype different three-dimensional designs in different environments.
Play with different combinations of materials including rocks and logs, metal and magnets, and new and recycled materials as you test their impact on your structures.
Offered the weeks of 7/9-7/13 and 8/13-8/17.

Spark

Grade 1 – 5

Learn More

Disruptive Design

Design and build a circuit board using conductive paint, copper tape and/or wiring. Experiment with pressure switches, LEDs, and buzzers! At the end of the week, link all the creations to form an interactive mural.

Build interactive art and inventions that function individually and contribute to a larger installation.
Incorporate elements to trigger the five senses.
Offered the weeks of 6/11-6/15; 7/16-7/20; and 8/13-8/17.

Interacting with the Invisible

How do we "see" the invisible and explain that it is real, that it exists, and learn more about it with our interactions? It's propulsion week.

Use air as an energy resource to make things move.
Design and build an air-powered car, or a walking creature-bot!
End the week with a team stomp rocket challenge.
Offered the weeks of 6/18-6/22 and 7/23-7/27.

Home Away from Home

Shelter is one of our basic needs, right along with food and water. In this theme, you will be challenged to deconstruct your assumptions of what "shelter" means. By investigating shelters of all sorts, from tipis to igloos to geodesic domes, you will engineer and prototype your own shelters to withstand a whole host of reimagined living environments from Mars to the North Pole.

Strap on that tool belt as you invent and construct amazing new shelters of your design.
Test key structural principles underlying various shelters to adapt to different environments.
Offered the weeks of 6/25-6/29 and 7/30-8/3.

Natural Art, Natural Energy

Come build art installations that blur the lines between the natural and human-made worlds. In an all-group culminating project, follow in the footsteps of great makers like Andy Goldsworthy and Christo & Jeanne Claude to build structures and create inventions that test the impact of human-made design on nature. Design and make your own device to harness the natural energy that surrounds us.

Redefine the entire concept of indoors vs. outdoors by bringing nature inside to make your own installations.
Make your own apparatus to harness solar, wind or hydro energy.
Offered the weeks of 7/2-7/6 and 8/6-8/10.

Playscapes

Did you know that playing improves the way your brain functions, stimulates new neuron growth, boosts creativity, improves your relationships with your friends and relieves stress? That's why we're building our famous Hawaiian-themed Luau Carnival that is 100% designed and run by you!

Design, build, and run your own Luau carnival including all of the booths, games, and prizes.
Investigate the meaning and importance of play and find opportunities to incorporate systems of play into everything you do.
Explore why logic and rules are needed to create structured play (sports and games) versus non-structured play.
Offered the week of 7/9-7/13.